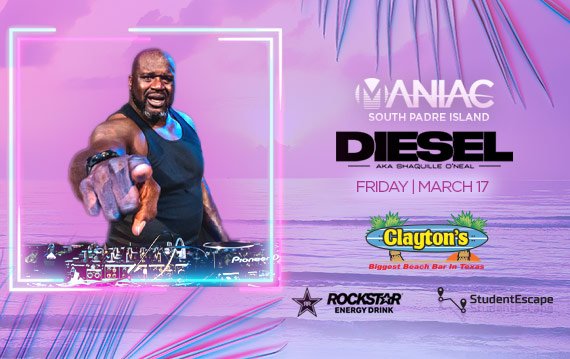 The Maniac VIP Card Program presents a can't-miss concert experience in South Padre Island, this coming Spring Break 2023.
Larger than life entertainer Shaquille O'Neal – who goes by the stage name Diesel – is coming to Spring Break in South Padre Island on Friday, March 17 to perform live at Clayton's. Advance tickets are now on sale.
Diesel's '93 rap album, 'Shaq Diesel,' did the unthinkable of selling over a million copies and peaked at No. 25 on the Billboard 100 cementing Shaquille O'Neal as the only athlete ever with a platinum-selling album. Diesel's dance music debut was at TomorrowWorld 2015, as the Hall of Famer took the stage for the first time in front of tens of thousands of fans mixing the best of Trap, EDM, and Hip-Hop. From there Diesel's career was born as he cemented the title of 'the biggest DJ in the world.'
Shaquille O'Neal's off-court accolades rival his athletic accomplishments, having found success in acting, music, television, gaming, and while Shaq is already a platinum recording Hip-Hop artist, this is just the beginning for Diesel.