Daytona Beach, Florida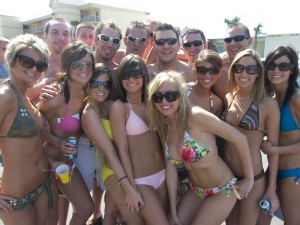 Spring Break 2015 starts in Daytona Beach Florida.  This amazing 23 mile stretch of wide, hard-packed white sand beach has long been one of the hottest Spring Break destinations in Florida. Spring Breakers can take a drive down 16 miles of this famous beach, catch some rays or ride the waves in the Atlantic surf. There are awesome deals on hotels right on the beach and they have one of the hottest nightclub scenes in Florida.
If you like to play on the beach, you will love the activities that range from rock climbing walls, beach volleyball and Frisbee tournaments. You can surf the waves, boogie board, jet ski, parasail and other activities that revolve around spending a great day at the beach. You can even rent a motorcycle or a bicycle and explore Daytona's unique drivable beach.
If you are up for making a day trip, Daytona Beach is quite close to Walt Disney World, SeaWorld and Universal Studios in Orlando. Daytona also has it's own local attractions like DaytonaUSA, an exhibit that celebrates the history of NASCAR and the famous Daytona International Speedway.
When the sun goes down the nightlife really heats up. Daytona Beach has a wild club scene with bars like Razzles, Aqua, and the Ocean Deck all located within easy walking distance from the beach hotels. Whether you enjoy live DJ's spinning high energy dance beats, chart breaking concerts or a party inducing reggae band, it's all here in Daytona Beach.
There is no need to drive your car to the clubs at night because Daytona's party bus will get you there safely. This unique, English style red double decker bus provides free rides for Spring Breakers all night long. The party bus makes regular stops at all the major beach hotels and all the best nightclubs and beach bars.
For Spring Break, Daytona Beach is your destination. It's hotter in Daytona Beach!
For more Info please see: www.dbspringbreak.com